Worshipful Master Kevin Green has had a very successful and wonderful packed year as W.M.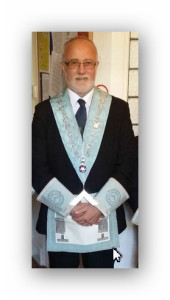 In February 2014 he was installed as Master by W. Bro  Frank Lewis in a ceremony that, due to W.Bro Lewis' high standard of ritual, went without one prompt.
In March the first of two candidates was initiated to a very high standard by the new W. Master as well as the supporting Brethren,
April saw the initiation of our second candidate and again a very high standard ritual was performed by all.
In May we had the First degree tracing board: well done to W Bro Gerald Sclater. (How do some brethren learn such long pieces?)
The Worship Master with the support of the Lodge's Mentor, W. Bro Gary Hunter, organised a "White Table " evening.
The idea being to hold a dinner for members and friends who may be interested in joining Freemasonry.
A very successful night; in particular many of the guests enjoyed a conducted tour of the Temple by W.Bro Mike Saffin, so much so that one of the guests is joining us in April.
In June the first candidate went through to become a Fellow Craft and what an excellent candidate he is. The ritual, including the full length 2nd Degree working tools.
July saw our second candidate become a Fellow Craft with the long version of the working tools done by W.Bro R Walsom, who is not known for his ritual, but nevertheless did a very good job in the recital of this difficult piece.
The Worshipful Master also had a Hog Roast to which nearly 100 people turned up to enjoy a freshly roasted Hog. All money raised went to Age Concern Dementia department which was over £100
We don't meet in August and so in September when we met again we were treated to an explanation of the 2nd Degree tracing board.
October saw the first of two third degrees performed and on this occasion it was the short ending version which again the Brethren performed to a very high standard and should be very proud of the fact.
On the 18th October St Thomas Lodge had special dispensation to hold a meeting at Cadogan Court. This is a Masonic retirement home in Exeter. St Thomas has held a meeting here specially for the residents since 1986. The Brethren who reside here cannot get out and about like they used to so we go to them.
The Brethren received sad news in November that our second candidate had decided not to continue for personal reasons. So a regular visitor to our lodge offered to stand in. This was eagerly accepted as the Brethren had spent many hours rehearsing this long close 3rd degree. Its great when everything come together and the Brethren and Worshipful Master hardly had one prompt.
The Ladies lunch was held at the Langstone Cliff Hotel Dawlish where 60 brethren, wives and friends had a set meal which, as always, was very good. The Langstone is a great place to have functions for the day time or the evening. You never have to order your meal up front!!
December St Thomas has a lecture which all members of the lodge are invited to take part. It is a 7 year cycle and this year we had the first 3 sections of the First Lecture.
January is St Thomas Lodge's domestic night where we ballot new members (2) and any other general business is conducted. Traditionally this meeting does not have any visitors
February is our big month of the year as a new Worshipful Master is installed into office.
The ceremony is mainly conducted by the outgoing Master.  W. Bro Kevin Green who has to learn 14 A4 sides of ritual, a mammoth piece by anyone's standards. But as we have now come to expect W. Bro Green was just about word perfect and conducted the ceremony to a very high standard indeed.
The new Worship Master is W. Bro Viv Carton. He has been in the chair before and due to a gap has very kindly stepped in for this next year.
We wish him well and look forward to his program for the year.