One of the main reasons why Freemasonry exists is that they believe in giving to Charity. Especially the old, sick and orphans. The money is raised from its members and by not "shaking a tin". It is a fact that Freemasonry in this country give more to charity then any other organisation apart from the Lottery. The money given is not only to Masonic charity's but also to many other non-masonic charity's.
In Devon for example  the Wake fund was set up to give money to organisations which vary from a new play ground to a new Scout Hut to help finance a teenager to go abroad and work in a orphanage and to many other worthwhile causes.
One of the most popular charity's that the Masons set up is what is affectionately known as the teddy bear charity. This is where Teddy bears are given to children who are in hospital as a comfort to there illness.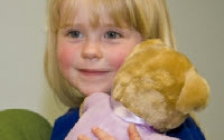 "My daughter was in hospital over the weekend, and received a TLC teddy bear, which really worked and has even had breakfast with her this morning. A fantastic idea for children in distress, long may it carry on."   TLC
So not only do we donate to local charities and good causes but also to medical research and need both locally and on a National scale






by